At 85%, the vast majority of U.S. adults stand confident in the safety, quality and effectiveness of dietary supplements, according to the 2013 Council for Responsible Nutrition (CRN) Consumer Survey on Dietary Supplements. The survey, conducted by Ipsos Public Affairs on behalf of Washington D.C-based CRN, also found more than two-thirds of U.S. adults take dietary supplements, with 68% reporting that they take dietary supplements. Consistent with last year's survey, the multivitamin, an affordable insurance policy for good health, is still the most popular supplement, with 52% of U.S. adults reporting having taken it in the past 12 months, followed by vitamin D (20%), omega 3/fish oil (19%), calcium (18%), and vitamin C (17%).


*Source: 2013 Council for Responsible Nutrition Consumer Survey on Dietary Supplements
Source: 2013 Council for Responsible Nutrition Consumer Survey on Dietary Supplements "The fact that confidence in dietary supplements remains high may be a testament to consumers' understanding that the overwhelming majority of companies in this industry are dedicated to looking out for their customers, and manufacturing and marketing safe dietary supplement products that provide health benefits," said Judy Blatman, senior vice president, communications, CRN. "But as an industry, we can't get complacent. We need to continue to improve our track record when it comes to following the law, including good manufacturing practices. We also need to find more ways to help consumers identify those companies that are in compliance with the myriad of regulations, versus those companies that give the industry a bad name."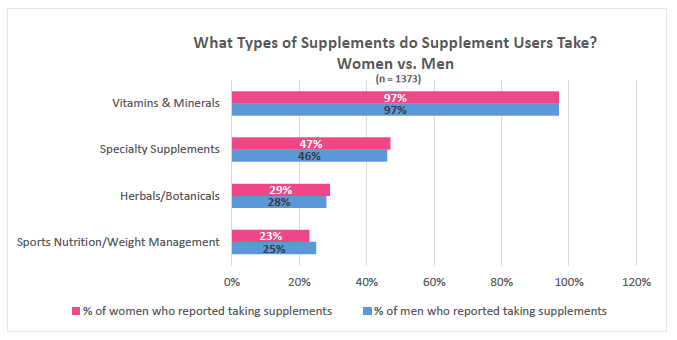 *Source: 2013 Council for Responsible Nutrition Consumer Survey on Dietary Supplements
The survey identified both similarities and differences between genders when it comes to dietary supplement usage and reasons for usage. While a greater proportion of women (72%) take dietary supplements than men (64%), both women and men share the same top reason for taking the dietary supplements they do take: for overall health and wellness benefits, selected by 54% of supplement users overall.
CRN's consumer survey, in its 14th consecutive year, this year added several questions to garner new insights into consumer usage and behaviors surrounding dietary supplements. For instance, one of the new questions asked supplement users, "When did you first begin taking supplements overall?" According to the survey, 73% of supplement users reported starting their supplement use in adulthood. Additional survey results, specifically those from the "never been asked before" questions, will be released later this year and early into 2014.
Said Ms. Blatman, "Our data has shown enormous consistency for the past 14 years, and there is no question that the majority of American adults value dietary supplements for their health."
The 2013 CRN Consumer Survey on Dietary Supplements was conducted August 12-15, 2013 by Ipsos Public Affairs and funded by CRN. The survey was conducted online and included a national sample of 2,013 adults aged 18 and older from Ipsos' U.S. online panel. The survey has been conducted annually since 2000.