November 6
th
, 2019 – Chemor, Perak – ExcelVite, the world's leading producer of oil palm-based nutraceutical ingredients and palm biodiesel, has won the ASEAN Business Award (ABA) 2019 under the
Priority Integration Sectors – Agri-Based (Mid-Tier)
.
(Note: ASEAN is the Association of South East Asian Nations, formed by ten member countries – Brunei, Cambodia, Indonesia, Laos, Malaysia, Myanmar, Philippines, Singapore, Thailand and Vietnam.)
Launched in the year 2007 by the ASEAN Business and Advisory Council (ASEAN-BAC), ABA was conceived to be the first of its kind in the region, with the dual objectives of recognizing outstanding ASEAN enterprises, and to serve as a platform to disseminate information regarding the ASEAN Economic Community (AEC) and to promote regional integration. In addition, ABA also brings to the spotlight promising ASEAN small and medium-sized enterprises (SMEs) that have the potential of becoming a global economic players. This year, Thailand is the host country of ABA 2019, which was held on 2
nd
November at the Impact Exhibition Centre, Bangkok, Thailand.
After undergoing rigorous selection process carried out by distinguished panel of judges from ASEAN countries, ExcelVite was selected as the winner in the
Agri-Based sector
within the category of "17 Priority Integration Sectors", based on overall scores achieved in the judging criteria of Growth, Employment, Innovation and Corporate Social Responsibility. ExcelVite detailed the company business activity; proprietary and integrated process; short terms and long term business strategies for its branded phytonutrients products such as EVNol™ palm tocotrienol complex & EVTene™ palm mixed-carotene complex as well as renewable energy and oleochemical products - EVFuel™ and EVOleo™. These branded products have been promoted and marketed globally as well as within South East Asia Countries.
"Being an enterprise that is incorporated in Malaysia – one of the ten ASEAN member countries, ExcelVite is proud to receive this ASEAN Business Award that reflects the recognition of our business and performances in the South East Asian region,"
says Mr. WH Leong, CEO of ExcelVite.
"ExcelVite will strive for continuous innovation in research and development as well as marketing in order to bring our products to more companies in ASEAN countries and to expand into the new markets. I would also like to dedicate this award to my employees for their commitment in upholding the company's vision to reach to the pinnacle of palm nutraceutical excellence,"
added Mr. Leong.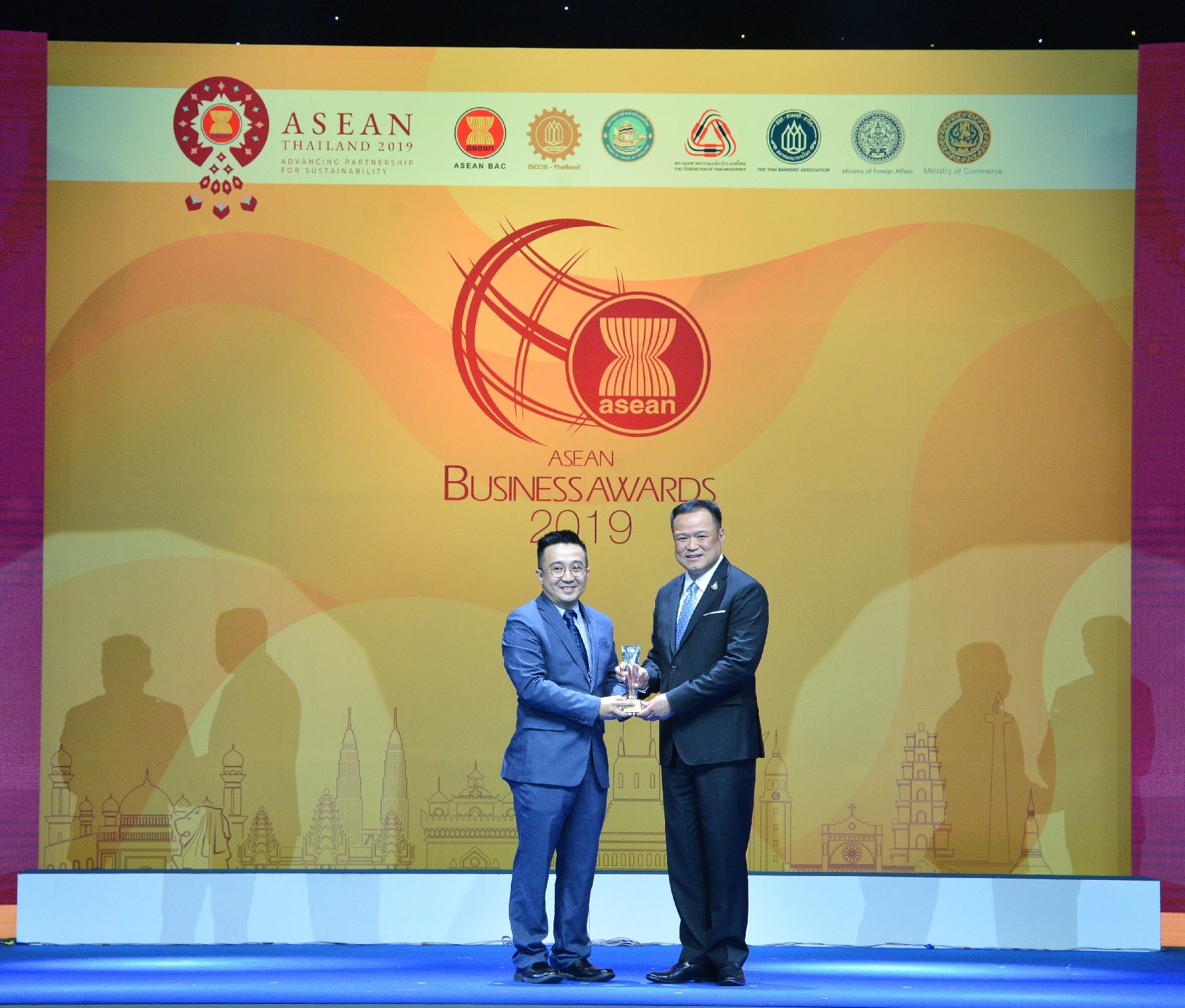 At the Award Gala Dinner held on 2
nd
November 2019. Business Development Manager Mr. Bryan See represented ExcelVite to receive the ABA trophy from H.E. Mr. Anutin Charnvirakul, Deputy Prime Minister of the Kingdom of Thailand.
About ExcelVite
ExcelVite Sdn. Bhd., incorporated in Malaysia in 2013, is the leading and largest producer of natural full spectrum tocotrienol / tocopherol complex (EVNol™, and EVNol SupraBio™), natural mixed-carotene complex (EVTene™), phytosterol complex (EVRol™), and red palm oil concentrate (EVSpectra™) in the world via a patented technology. In addition, ExcelVite also produces high quality palm methyl ester – oleochemical grade and biodiesel grade – that exceeds the EN 14214 and ASTM 6751 specifications.
ExcelVite is the only tocotrienol producer that operates in accordance to GMP (PIC/S) Guide to Good Manufacturing Practice for Medicinal Products. Its laboratory is accredited with ISO/IEC 17025 accreditation.
EVNol SupraBio™ is a patented (US Patent No. 6,596,306) self-emulsifying palm tocotrienol complex that ensures optimal tocotrienols oral absorption.
ExcelVite manufactures and markets its products under the tradenames: EVNol™, EVNol SupraBio™, EVTene®, EVRol™, EVSpectra™, EVFuel™ and EVOleo™. These branded products are Non-GMO, Kosher and Halal certified.
ExcelVite is certified MSPO SCCS and supports the production of certified sustainable palm oil (CSPO) through RSPO Credits.
Websites:
www.excelvite.com
,
www.tocotrienol.org
and
www.carotene.org
Contacts:
| | | |
| --- | --- | --- |
| WH Leong, CEO | Tel: +61 (03) 9801 3881 | Email: info@excelvite.com |
| Bryan See, Business Dev. Manager | Tel: +1 (732) 906 1901 | Email: klsee@excelvite.com |
| Diyanah Roslan, Nutritionist | Tel: +60 5 2014 192 | Email: diyanah@excelvite.com |
| Fatin Fathihah, Business Dev. Executive | Tel: +60 5 2014 192 | Email: fatin@excelvite.com |
| Huda Rashid, Business Dev. Executive | Tel: +60 5 2014 192 | Email: huda@excelvite.com |